Today i sugest the parks for old people, for example in Leiria have.
There bicicles machines for your arms and legs and places to make exercise and relax in the nature.
Everyone enjois it and is fre. Cheap than the water parks in Figueira da Foz, and you can take food there and there is no cars making polution and going over your food. Also a river is there so you can trow the garbage and it take it away an nobody will know it was your garbage.
All tourist have to know this. Have a great time in the park. During the morning there is no old people and you can be better without they screams. They take a lot of time in every machine and when they go out they leave the seat all with bad smell and with water. And i think transpiration dont smell like that. But if you clean everything with some trees and folhes that are there, you can have good exercise.
You can make in this machines good positions that almost look impossible to do at home. For exemple, this guy in the picture is like going on a bike for 3 people and just one people is pedaling.
At night you can try with your wife new sexy movements ;) I try some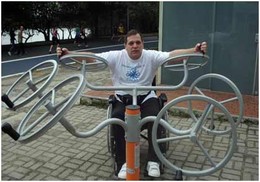 A men i asked to enter the photo