Helo my frends from al around the world and islands. These is my blog and from today i am going to talk and rite especialy to you.
Portugal is the more beautiful contry that i now, and i went to many places like Spain (Benidorm e Torre Molinos), Venezuela (capital) and Angola (in the bushes and florests). And i never saw anything like Portugal in the woeld.
Portugal have many attractions that show in the books and internet like wikipedia and google, like Torre de belém and Mosteiro dos Jerónimos, ou Amoreiras. But more are forgot and never show anywhere not iven in book and internet.
In my blog i will show you these alternative tourism of Portugal. Places that torists dont go so much but they show Portugal deep and interesting things for the tourists. 
Starting today with Sporito in Leiria. Sporito is for me the best shop in Portugal to buy trainning suits, balls and everything that is connected with sports. Thei are not so big as sportzone but they have everithing igual and good prices.
They are amazing and the ladys that work there are very simpathic. One of them is my friend from school, Angela. If you buy something there, say that you know me (Fax) and she will give you free stickers of Puma and a hat with the Sporito picture, is a good hat, i still have my and use it alot.
I think it deserves a visit and speak with the portuguese traditional people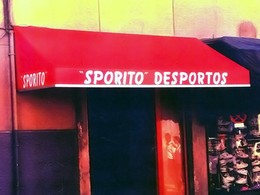 This is a picture of the shop that i take with my phone camera